The Finish Line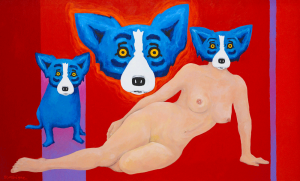 The Finish Line
2001 by George Rodrigue
54×72
Acrylic and water-based oil on canvas
Location:  New Orleans
A unique and outstanding master work from Bodies, Rodrigue's The Finish Line combines a classic, feminine nude with the artist's contemporary, hard-edged line, composition, and palette.  This particular piece also reflects Rodrigue's ongoing interest in color field painting (such as Barnett Newman) and surrealism (such as Salvador Dali).  In this large-scale work, Rodrigue incorporates a naturalistic figure into an imagined environment and, in replacing the woman's head with the Blue Dog's, a mysterious, anonymous subject.
The nude figure appears in Rodrigue's artwork as early as the 1960s.  Even prior to his signature Oak Tree, the female form captivated his attention, first in hundreds of drawings created from studio models during his Life Drawing Classes at the Art Center College of Design in Los Angeles, followed by loose and abstracted figures in paint, and finally romantic renderings of Jolie Blonde or Evangeline-type nudes floating like ghosts within Rodrigue's landscapes.
Nudes also appear in early paintings from the Blue Dog Series.  However, following a health scare that resulted, in the early 1990s, in his permanent switch to acrylic paint, Rodrigue struggled with this classic subject matter.
"A woman's skin must be soft," said the artist, when he finally abandoned the nude.  The fast-drying acrylic paint made the necessary blending near-impossible without causing a rough build up of pigment on the canvas.
In the early 2000s, Rodrigue discovered a water-based oil paint.  He spent much of a two-to-three year period in a dedicated return to the traditional female nude in a series he called Bodies, on view during the exhibition Rodrigue's WOMEN, opening March 25th 2017 in New Orleans.
Learn more about the Nude in Rodrigue works on Wendy Rodrigue's Life and Legacy page.