Description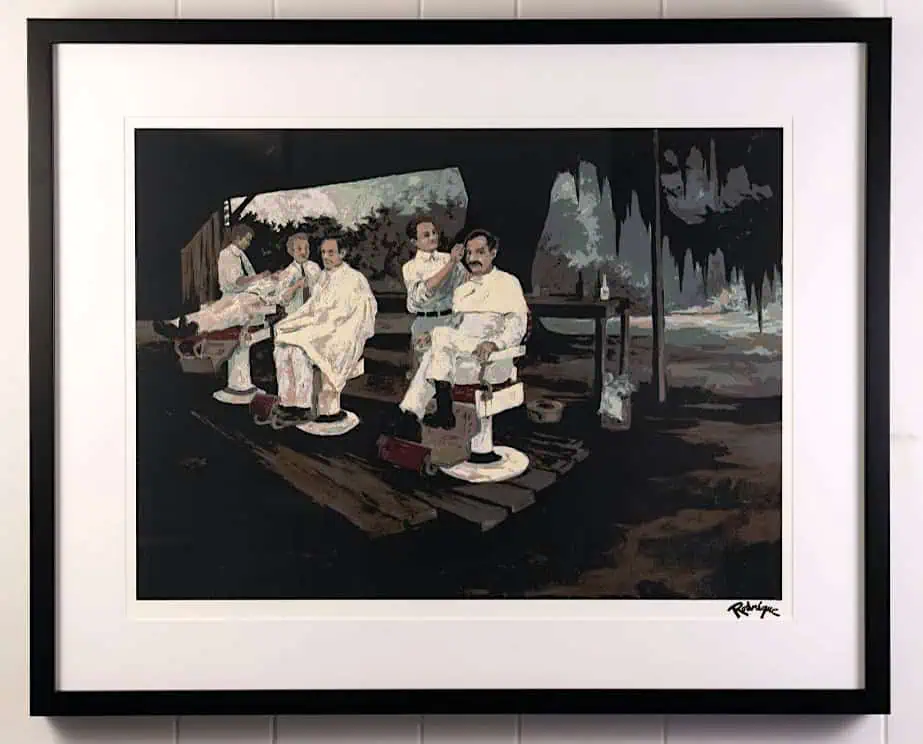 The people seen in George Rodrigue's landscapes are his ancestors — Acadians forced to flee their home in Nova Scotia by the British in 1755, during what the Cajuns called Le Grand Dérangement.   Settling along the Atchafalaya Basin near the Gulf of Mexico, they struggled to find comfort and make a home in this new land.  These are the people Rodrigue chose to paint, Cajuns who lived before the modern era, seemingly 'pasted' into their environment, just as their ancestors were placed into unfamiliar surroundings.  These people were hunters, fishermen, trappers and barbers.
Rodrigue's imagination often took seemingly ordinary scenes and activities into the realm of the surreal.  This painting, Broussard's Barbershop (1971), based on a photograph of unknown origin (left), depicted a typical barber shop from the 1940s/50s, however, Rodrigue removed the figures from the interior setting, and placed them among the Louisiana live oaks.  In his book, The Cajuns of George Rodrigue, (Oxmoor House, 1976), Rodrigue described the scene:

Desiring to be professional barbers, Broussard and his brothers bought red velvet barber chairs on sale for $5.00 apiece in New Orleans.  Once purchased, these precious chairs had to be transported on barges and boats and brought across the swamp.  It took six days to get them from New Orleans to Lafayette.  But once the barbers got the red plush velvet chairs in place beneath the Spanish moss dripping from the spreading tree, they became professionals — at least on Saturday — the only day they were open.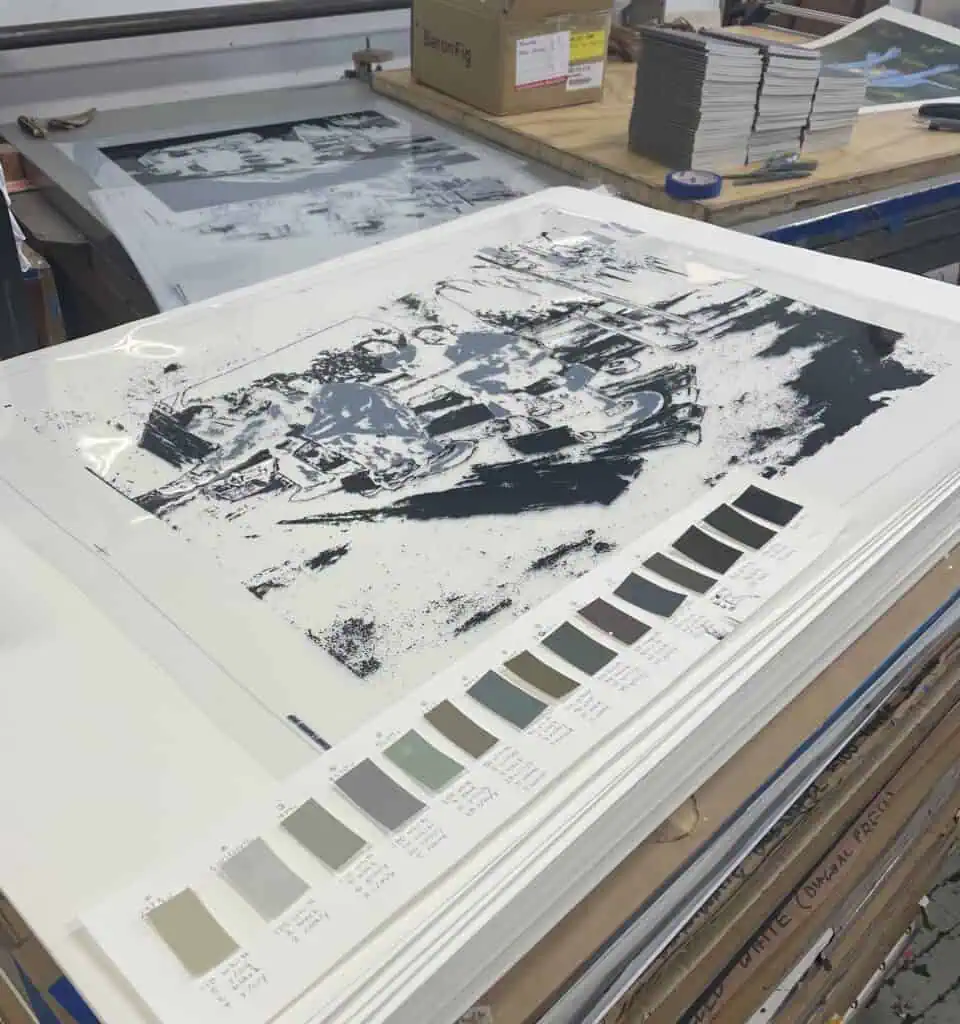 The early reproductions of Cajun paintings were posters often mass-produced for special events or festivals. In the 2000's, Rodrigue began to utilize a four-color process for his Cajun works, as it was still considered too complicated to reproduce the full spectrum of details in these rich oil paintings.  However, improvements in computer programming now allow printmakers to more easily separate colors in images, and for the first time, this is a true 16-color silkscreen of a Rodrigue Cajun painting (right), capturing the comprehensive range of tones, including the plush red velvet chairs Rodrigue described.
*Price and availability subject to change without notice, sold unframed

All prints sold directly by the Rodrigue Estate are also accompanied with a certificate of authenticity indicating the number of the print purchased from the estate.
Learn more about Broussard's Barbershop by visiting Wendy Rodrigue's Life and Legacy page here.