Description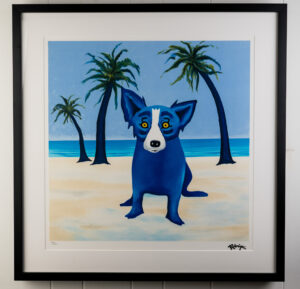 George Rodrigue fondly recalled his childhood visits to the Mississippi Gulf Coast with his parents in the 1950s.  It wasn't until he was an art student at the Art Center College of Design in Los Angeles that he experienced the vastly different California coastline, later opening his Galerie Blue Dog in Carmel-by-the-Sea in 1991.  The beach and coastlines of Florida, California and Hawaii all appear in the limited number of Rodrigue's beach-themed works.  One of his most popular and well-known images is Hawaiian Blues (1999), created for the cover of the Neiman Marcus catalogue on the occasion of opening a new store in Honolulu, Hawaii.  That painting, which depicts the Blue Dog with a lei of butterflies around his neck against a backdrop of the Hawaiian coastline is also one of the few images with palm trees.  Those palm trees are highly reminiscent of those depicted in Blue Dog, Blue Sea, although this image does not represent a specific beach.
Based on a painting done in 1995, Blue Dog, Blue Sea is a stone lithograph printed on high-grade rag paper by artisans still producing works in the traditional manner; the colors are rich and varied with an appearance that resembles oil and chalk rather than ink.  As Rodrigue explained the process, "Each person involved in the process specialized in a different field including separating the colors, etching the stone, and hand-printing the colors individually, layered one on top of the other, creating a continuous tone image similar to an original painting."
*Price and availability subject to change without notice, sold unframed

All prints sold directly by the Rodrigue Estate are also accompanied with a certificate of authenticity indicating the number of the print purchased from the estate.