RODRIGUE: Happy Mardi Gras!
Rodrigue Studio
730 Royal Street
New Orleans, LA
View this historic collection of original paintings and  silkscreens   by George Rodrigue, spanning 40 years of carnival traditions, during this Mardi Gras season.
On view now through March 19.
---
George Rodrigue grew up celebrating the tradition of Mardi Gras. As a child in New Iberia, Rodrigue's mother dressed him in costume for the parades and "Carnival Balls," where he and his cousin Arlene entered together, and often won, the costume competitions.
Rodrigue painted the Mardi Gras mythology beginning in the early 1970s.  He focused on the carnival traditions in small-town Acadiana, showing a Cajun interpretation of the 'big city' celebration.  He often incorporated the official Mardi Gras colors of purple (justice), gold (power), and green (faith), selected in 1872 by Rex, one of the oldest New Orleans Mardi Gras krewes. 
By the mid-1970s, Rodrigue, now living in Lafayette, declared himself King of Mardi Gras.  He built a platform in his yard at 1206 Jefferson Street, where, dressed in full regalia, he and his dog Tiffany (the original model for the Blue Dog), greeted the passing parades. What began as a small social occasion grew quickly into a large annual party of more than 500 people gathered on Mardi Gras Day.  Artist-King George tossed custom-designed doubloons adorned with his iconic oak tree, or with images of Longfellow's Evangeline and Gabriel —poetic symbols of the Acadian Saga.  Each year he designed a one-of-a-kind solid gold doubloon, which he wore as a medallion complementing his royal attire (samples seen in a nearby case).  Guests arrived in costume and enjoyed gumbo, jambalaya, and a Cochon de Lait (roast pig) as they watched the parades.
Rodrigue painted dozens of versions of Mardi Gras throughout his lifetime, reinterpreting many of his designs as commemorative posters.  Oftentimes he posed his friends, dressing them in elaborate costumes, such as with King Marion (1985), honoring Marion Edwards as King of the Washington Mardi Gras, along with Louisiana favorites Chef John Folse and P.J. Latour posed as Lieutenants.  In A Toast to Broadway, also from 1985, Rodrigue saw his most popular Mardi Gras poster to date. According to the artist, the composition, created for the Southwest Louisiana Mardi Gras Association, "turned out to be very successful when the local people preferred it to my regular Cajun paintings because of the bright colors."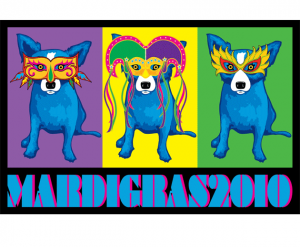 It was within the Blue Dog Series, however, that Rodrigue explored fervently the Mardi Gras theme.  His palette grew increasingly vivid, at times near-neon, and his contemporary compositions lent themselves to designs integrating the Mardi Gras flag, masks, and beads not as secondary elements, but as important shapes, key to his bold artistic statements.  This is especially true of his original silkscreen designs, created near-annually between 1992 and 2013.  The Blue Dog Series Mardi Gras editions highlight Rodrigue's development within printmaking.  
Eventually Rodrigue expanded to a six-color dog, and finally, once the computer became part of his process, to infinite colors and increasingly complex designs.  He also experimented with metallic papers and mixed media within his Mardi Gras editions.
"Right after Christmas, which is mostly white lights and silver bells, Mardi Gras season arrives full force, interrupting winter with a burst of color. These hues come from the thousands of different costumes, masks, flags,
floats, beads, and doubloons, all of which swirl around the three primary colors of purple, green and gold."
— G.R.