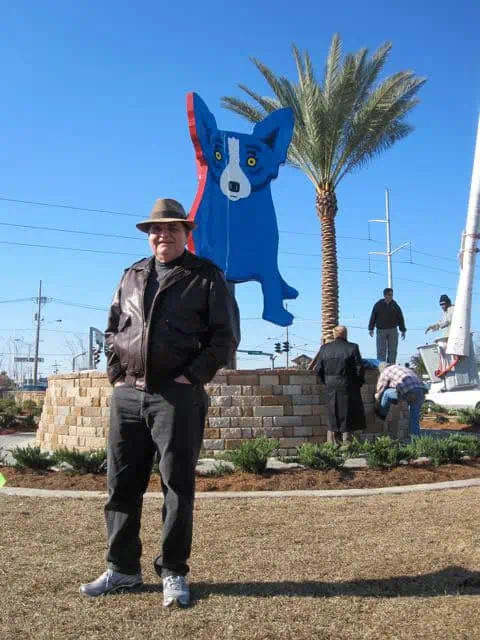 Metairie, Louisiana
Veterans Blvd
Installed January 2010 – 28 ft
This large-scale sculpture prompted new challenges for George Rodrigue, including working with and curving enormous sheets of metal, transporting the work from the fabrication shop more than one hundred miles, arranging landscaping, security, lighting, and parking, planning for hurricane force winds, and most importantly, working with area legislators and citizens to ensure a sculpture and installation that adds in a positive way to their community.
---
Rosemary Beach, Florida
Scenic Hwy 30A
Installed May 2017
George Rodrigue's Colors of my Mind (2008) premiered amid great fanfare during the Rosemary Beach Sculpture Exhibition as a permanent installation on Northwest Florida's scenic Highway 30A.
This magnificent sculpture is one of Rodrigue's greatest artistic accomplishments, as well as an important American Modernist artwork.  

---
Lafayette, Louisiana
Kaliste Saloom Office Park
Installed 1983
George Rodrigue held a deep appreciation for classicism in the visual arts. In a way, this embrace of time-honored techniques and subjects translated to a parallel within his own career, as evidenced in his large scale bronze, Legacy.
---
New Orleans, Louisiana
Besthoff Sculpture Garden, NOMA
Installed 2007
There was a real challenge in creating the dog as a sculpture, because for George Rodrigue the Blue Dog only exists in two dimensions. It's not like a dog at all. It doesn't run or bark or chase its tail. It doesn't have a backside. It only exists in a specific pose and on a flat plain within a Rodrigue painting.
Created in 2005, Rodrigue's early three-sided Blue Dog sculpture, We Stand Together resides under the oaks at NOMA.

---
New Iberia, Louisiana
George Rodrigue Park
Coming Soon!
George Rodrigue's hometown of New Iberia, Louisiana has made plans to honor his memory in a remarkable way!

Being new and different in the modern world is not an easy task.