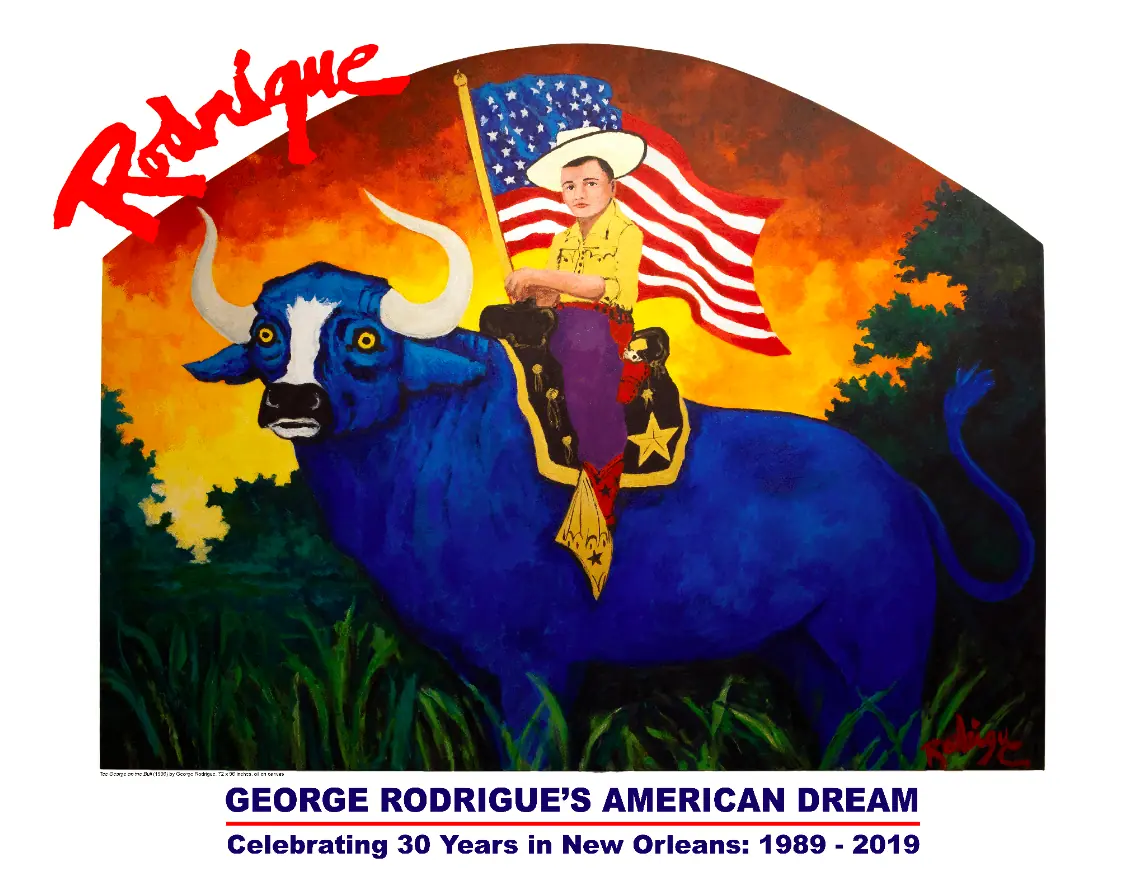 Rodrigue Studio, New Orleans, LA
George Rodrigue's American Dream: Celebrating 30 Years in New Orleans
Continuing through 2019
As the Rodrigue family celebrates their 30th year in New Orleans, Rodrigue Studios has assembled artwork that represents all genre and periods of George Rodrigue's body of work, including Landscapes, Cajuns, Portraits, Hurricanes, Blue Dogs, Bodies, and late works on metal and chrome. Special projects and atypical works are also highlighted within this special commemorative exhibition, celebrating the life, art and achievement of George Rodrigue's American Dream!
---
Bayou Teche Museum, New Iberia, LA
Rodrigue's Artist Studio
Now Open
In January 2017, the Bayou Teche Museum unveiled a recreation of George Rodrigue's Carmel, CA  studio space, complete with the artist's easel and unfinished painting, and the plywood floor, splattered with paint.  Artifacts and memorabilia from his youth, including his Boy Scout days in New Iberia and early student work paintings from his private collection are included in the installation. 
Bayou Teche Museum
131 E. Main Street
New Iberia, LA 70560
---
Amuse Bouche Winery, Napa, CA
George Rodrigue Prints
Aug 3 – Sept 30, 2019
Featuring 25 rare, signed silkscreen and lithograph editions by George Rodrigue
Also on view…. A 3-D Blue Dog Series sculpture and the Rodrigue Jewelry Collection
plus Life & Legacy education outreach at River Middle School, Napa.
In 2008 Heidi Barrett and John Schwartz of Amuse Bouche Winery, Napa Valley, contacted Rodrigue about a wine label, which they hoped to reproduce in France as a stone lithograph. Intrigued by their genuine interest in the quality and originality of his designs, along with their similar commitment to their high quality, small-production winery, Rodrigue agreed to the project, painting Guess Who's Coming to Dinner?, an image for their wine label and lithograph.
---
Upcoming Exhibitions
Isidore Newman School, New Orleans
Aug 22, 2020 – Oct 22, 2020
Museum solo exhibition, plus Life & Legacy with schools throughout Orleans Parish