George Rodrigue

first painted the Blue Dog in 1984, but it wasn't until 1990 that he silkscreened the image.

The prints in most cases are unrelated to the paintings. In other words, most paintings are one-of-a-kind images without reproductions in any form, and most prints are original images, without a painting of origin.

In those early years, before the advanced computer tool, Rodrigue sketched on tracing paper for each color within a print. When stacked, the tracing paper formed a complete image. In the beginning he created simple designs and chose flat paint colors, providing corresponding numbers to his silkscreen printer, who then ran a proof for the artist's inspection.
A selection of available Signed Prints can be viewed below. However, Signed Prints are not sold online. Please Contact Us to discuss signed works and view all Signed Prints available.
---
Signed Prints
Starting at $3,000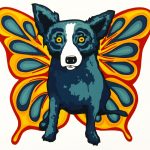 Signed Prints
Starting at $6,000
Signed Prints
Starting at $10,000