George Rodrigue

 began painting his Blue Dog series nearly exclusively in 1990 and immediately he recognized the image's conduciveness to silkscreen design. For twenty-five years before that, the artist painted and sometimes reproduced images of the Cajun culture of Louisiana that seemed to be disappearing.

To create his early Blue Dog prints he drew on plates, paper or mylar that were used as stencils in the printing process. However, as computer design and printing technology evolved over the next twenty plus years, the artist experimented with many differing processes to produce his Blue Dog prints as outlined in the 2007 book George Rodrigue Prints: A Catalogue Raisonné 1970-2007.

But, even as the technology changed, Rodrigue viewed print-making as a distinct art form from painting and as a chance to differently express his ideas graphically. Hence, the vast majority of the artist's Blue Dog prints are original images that are not based on paintings and there are very few direct reproductions of Blue Dog paintings. In all cases, editions of Blue Dog prints created during the artist's life were released in signed and limited editions.
A selection of available Signed Prints can be viewed below. However, Signed Prints are not sold online. Please Contact Us to discuss signed works and view all Signed Prints available.
---
Signed Prints
Starting at $3,000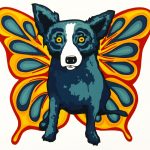 Signed Prints
Starting at $6,000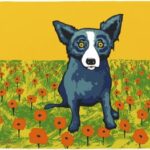 Signed Prints
Starting at $10,000