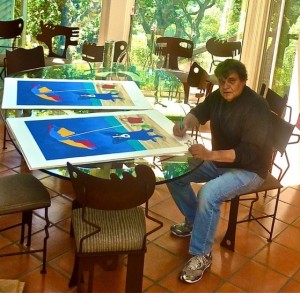 George Rodrigue enjoyed print-making since his early days as an artist. Years ago, his original Cajun works were reproduced as lithographs for events and festivals.
However, his first Blue Dog silkscreens began in 1990 under a different process. The Blue Dog prints in most cases are unrelated to the paintings.
There are of course exceptions to that rule because on occasion a few Blue Dog silkscreens were produced from paintings. Rodrigue's silkscreen history is complicated and dense and he also does not mass produce posters, cheap prints, and giclees. Today, the Estate of George Rodrigue continues to release Rodrigue designed images as silkscreens with a special stamp.
Read this blog entry if you would like to know more about Rodrigue print-making as an art form. Rodrigue made hundreds of editions of prints over the last 20 years and they are not all displayed here. Please  contact us  to learn more about pricing and available works.
---